Sunrise Christian School Early Learning Centre at Paradise
Welcome to Sunrise Paradise Early Learning Centre!
Our centre provides a loving and nurturing environment to develop your child's confidence as they grow! We place a big emphasis on teaching Christian values as part of our routine with daily devotions and prayer but families do not need to be Christian to attend the Early Learning Centre (ELC).
Our aim is to make the ELC feel like an extension of your home, partnering with you to provide continuity of care for your child and family.
We offer families a unique program adapted from the Kathy Walker Learning and Play-Based approaches. Constructive and meaningful play allows children to experience a wide range of activities to achieve learning outcomes and encourage the development of skills they will use throughout their lives.
Our program is delivered by experienced early childhood qualified educators invested in your child's wellbeing.
We care for children from the ages of 2 to 5, providing a strong transition program for children moving into Reception by developing their pre-literacy skills and awareness.
Our centre operates on a long day care model, open 48 weeks of the year, 5 days a week.
We look forward to welcoming you to our ELC and discussing your family's enrolment.
Enrolments are open
Once you've had a tour and think Sunrise is the right place for your family, you can start an Application for Enrolment online anytime, day or night! Once the form is finished, we'll reach out to you to finalise your family's enrolment.
Sunrise ELC Benefits
When your family joins our ELC, there are some immediate benefits you can access as well as longer-term opportunities:
A long day care model, open 48 weeks of the year, 5 days a week.
Unique play-based programs built on years of experience.
Extracurriculars such as language, sport, music and more!
Specialised early childhood educators.
A strong transition to school program, connecting ELC to Reception*.
School buddies - forming relationships with primary students and teachers in the Sunrise community.
Room to move and play. We access Sunrise school grounds.
Primary and Middle pathways for Christian families to Sunrise Christian Schools.
*To enrol at Sunrise Paradise, families must be part of the Christian faith.
Two-Year-Old places at Sunrise Paradise ELC

Sunrise Christian School's Early Learning Centre at Paradise now offers places for two-year-olds. Our enhanced ELC program and facilities have been specially designed for younger children. Qualified educators nurture each child on their learning journey through the big milestones and are there to support their developmental needs, setting them up to succeed at ELC.
Two-year-olds join our Pre-Kindy Room and enjoy time with ELC children and specialised small group times focusing on their developmental needs. To facilitate this, we maintain a low student-to-educator ratio to ensure each child receives quality care throughout the day.
To find out more, call 0409 568 982 or email paradise.elc.info@sunrise.sa.edu.au

Join our Playgroup!
We run Playgroups on Tuesday at Sunrise Paradise during school terms. Our Playgroups are open to all families who have children from birth to 5 years old and are an opportunity to build community between families and foster nurturing relationships between parents and children. Different themed activities are offered to families throughout the year. These activities are designed to help children develop abilities such as fine motor skills or literacy through song.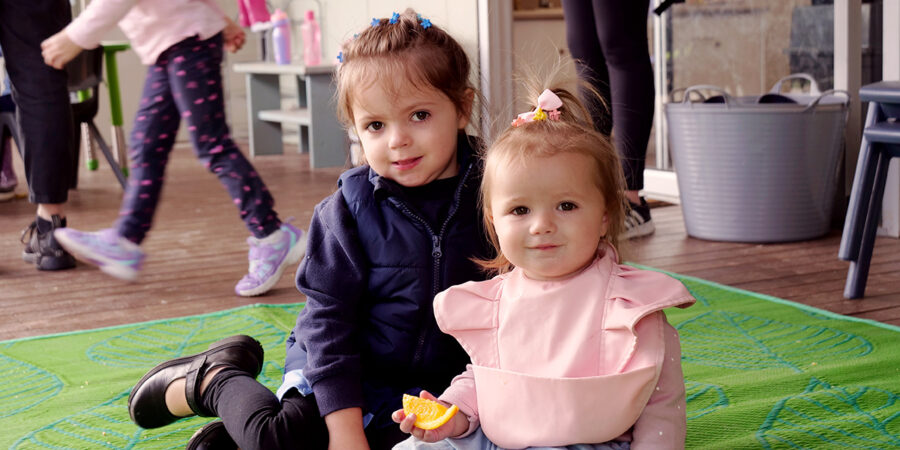 Our Playgroups focus on cultivating the relationship between the child and parent. At Sunrise, we believe that parents are the first educators, and therefore our program aims to empower these relationships. Our activities always consider the interactions and trust that is built between the parent and child and also whether it can be replicated at home.
Paradise Playgroup
Tuesdays: 9:00 - 10:30 am
Ph: 0409 568 982