Developing lifelong learners
Since 2011 the Sunrise Christian School Whyalla ELC has been providing an Early Learning Curriculum that prepares children for school, by developing a love of learning. We do this through a faith-based culture, family environment and biblical world view that underpins everything that we do.
Our ELC has qualified and highly experienced staff who have a passion for caring and educating children. Nicole, the Director of the ELC is a qualified teacher and leads the team providing a pre-school/Kindy program (for ages 4-5 years) as well as long day care for children from 2 years of age.
In 2017, our ELC went through the Australian Government's Assessment and Rating process and received the rating of "Exceeding" the National Standard. The highest rating possible.
Smooth transition into Reception
ELC children have the opportunity to get to know the Reception teacher throughout the year. Since our ELC is at the school, they are also familiar with the environment and surroundings and get a chance to participate in school-wide events. Our ELC is situated right next to the Kitchen Garden which allows daily visits to see the chickens, inspect the veggie patches, and provides diverse learning opportunities for children.
ELC Learning
Our play-based curriculum is developed to meet each child's individual needs and interests. There is a focus on literacy and numeracy skills and assisting children to thrive in these areas. Our literacy program focuses on pre-reading and writing skills such as phonemic awareness, rhyme and syllables, and other experiences to strengthen and refine their fine motor skills and coordination.
At Sunrise, our Buddy Program pairs Kindy children with Grade 5 children to spend time with each week. This gives the younger child a buddy - someone to learn from, grow with, and develop a relationship that continues into Reception at Sunrise Christian School. We also work in relationships with other educational and medical professionals, such as psychologists, paediatricians, and occupational and speech therapists, to ensure we provide the highest care and early intervention (if required) for a child's success in all areas.

Join our Playgroup
We run Playgroups on Fridays at Sunrise Whyalla during school terms. Our Playgroups are open to all families who have children from birth to 5 years old and are an opportunity to build community between families and foster nurturing relationships between parents and children. Different themed sessions are offered to families throughout the year. 
Our Playgroups focus on cultivating the relationship between the child and parent. At Sunrise, we believe that parents are the first and most important educators, and therefore our program aims to empower these relationships. Our planned experiences in the sessions always consider the interactions and trust built between the parent and child and how it can be replicated at home.
Each playgroup session is designed to support parents in helping their child develop abilities such as social skills, physical development, language development, and warm and responsive connections with the adults in their environment.
WHYALLA PLAYGROUP
Fridays
9:00 - 10:30 am
Ph. 0477 123 559
Follow us on Social Media
New 2-Year-Old places at Sunrise Whyalla ELC
Sunrise Christian School's Early Learning Centre at Whyalla is now offering places for 2-year-olds. Our enhanced ELC program and facilities have been specially designed for younger children. Qualified educators nurture each child on their learning journey through the big milestones and are there to support their developmental needs setting them up to succeed at ELC.
To find out more, call 0477 123 559 or email elc.info@sunrise.sa.edu.au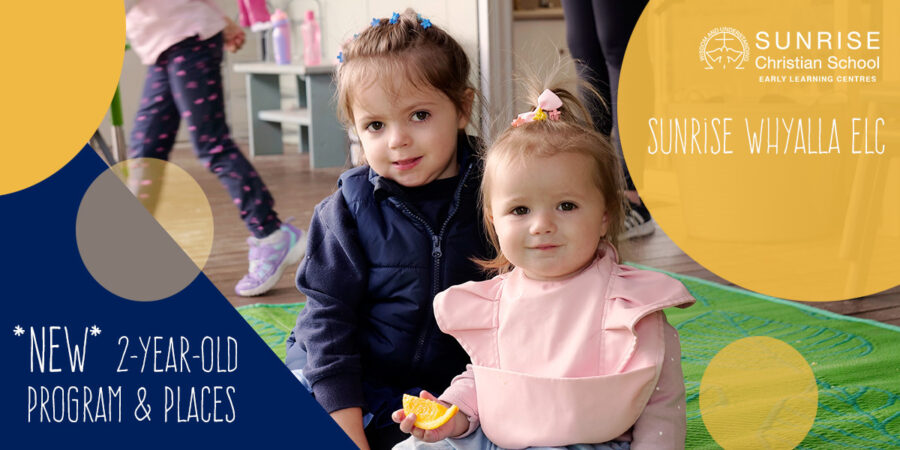 Early Learning Centre Tours
We would love to meet you and assist you however we can in making a decision for your child. Our centre is open during Principal Tours or you can send an enquiry to book a personal tour.
Enrolments are open
Once you've had a tour and think Sunrise is the right place for your family, you can start an Application for Enrolment online anytime, day or night! Once the form is finished, we'll reach out to you to finalise your family's enrolment.